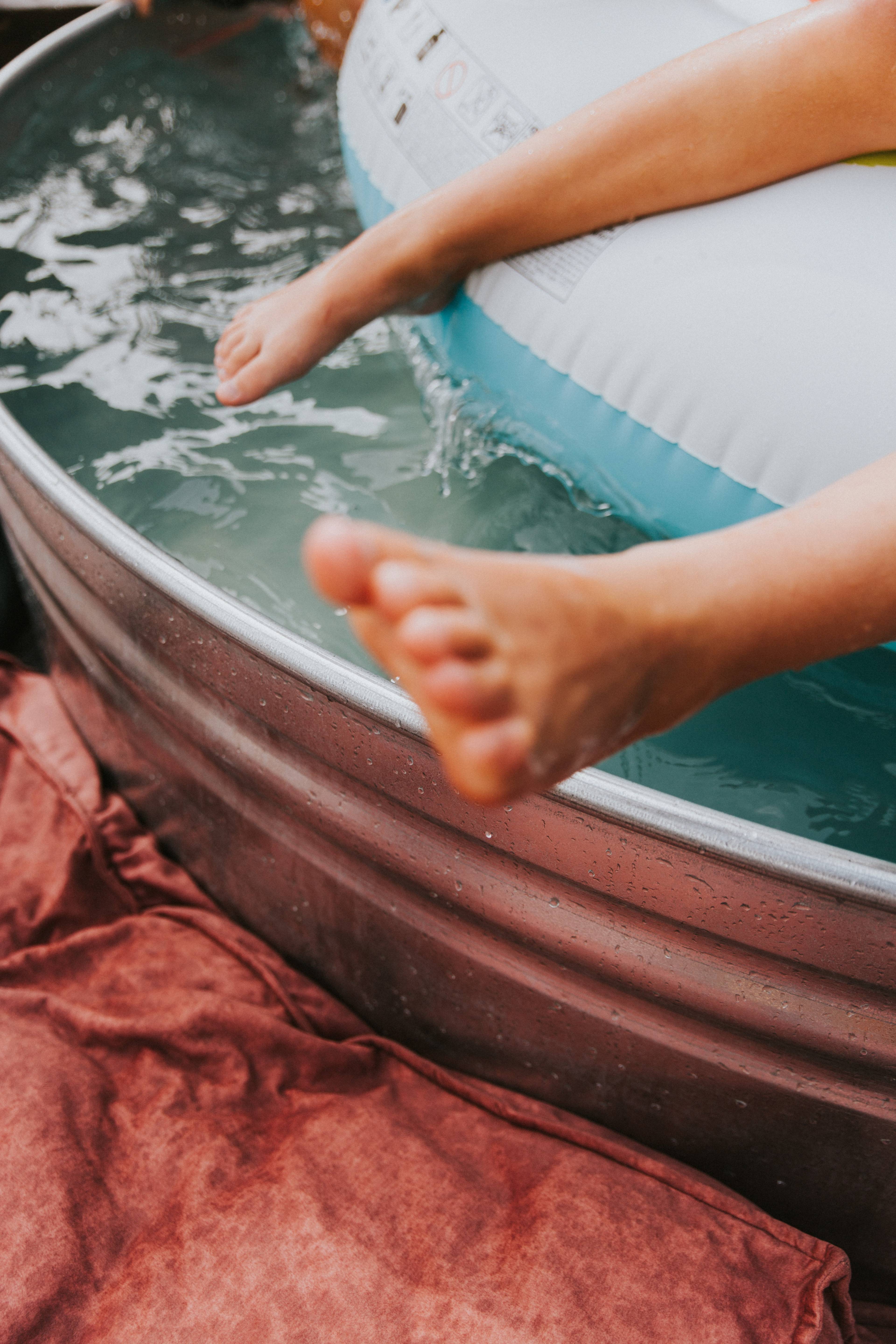 Read and follow all Safety Information and Instructions. Failure to follow these warnings and instructions can result in serious injury or death to users, especially children.
Tankkd provides a fun way for families to enjoy their time and focus on their well-being. Though our pools are only 2' deep, families with pets and children need to be more cautious in and around the pool to avoid accidents and other potential threats. These pools should be properly maintained to ensure proper sanitation measures are taking place. Without proper pool and hot tub maintenance (which includes circulation and treatment of water) various pathogens can grow. It can also create a breeding ground for mosquitoes.
WARNING
(NO Diving!) Diving or jumping may cause death, paralysis, or permanent injury. See Terms & Conditions before inquiring and/or purchasing. Pools present a drowning risk, no matter their size or depth. Children should never be left unattended in a pool, whether stock tanks or not. Even though a stock tank is 2' shallow they still present a drowning and safety hazard. Children and adults can drown in as little 6" of water. It is up to you evaluate whether a pool, stock tank or not, is safe for you and your family. When leaving pool, remove floats and toys that might attract a child back to the pool. No glass in pool area. No running, jumping, or horseplay in or around pool. Don't use the pool when using alcohol or drugs. Never operate the pump when pool is occupied or without water in the pool at least up to the height of the fittings. Never play or swim near suction fittings. Never enter the pool if suction strainer grid cover is loose, broken or missing. Drowning happens quickly. People drowning cannot call out for help. TO AVOID DROWNING OR SERIOUS INJURY ALL POOL USERS MUST KNOW AND FOLLOW THESE SAFETY RULES. SUPERVISE, SUPERVISE, SUPERVISE.
DISCLAIMER
You assume all responsibility for your stock tank pool. By using this site, you agree to hold Tankkd.com harmless from any loss or damage including without limitation, indirect or consequential loss or damage, or any loss or damage whatsoever arising from general use. The information contained in this website is for general information purposes only. The information is provided by Tankkd.com and while we strive to keep the information up to date and correct, we make no representations or warranties of any kind, express or implied, about the safety, completeness, accuracy, reliability, suitability or availability with respect to the website or the information, products, services, or related graphics contained on the website for any purpose. Any reliance you place on such information is therefore strictly at your own risk.

Safety Data sheet for coatings : please read them before you start coating your tank.

https://cdn.webshopapp.com/shops/293013/files/399411963/eng-msds-jotun-thinner-17.pdf

https://cdn.webshopapp.com/shops/293013/files/399411928/eng-msds-jotun-thinner-10.pdf

https://cdn.webshopapp.com/shops/293013/files/399411915/eng-tds-hardtop-flexi-comp-b.pdf

https://cdn.webshopapp.com/shops/293013/files/399411906/eng-msds-jotacote-n10-comp-b.pdf

https://cdn.webshopapp.com/shops/293013/files/399411896/eng-msds-hardtop-flexi-comp-a.pdf

 

 

[powr-map id="78d4821d_1629188327"]